10 Tips for Camping with Dogs at Great Escapes RV Resorts
Embarking on a camping adventure with your furry friend? Great Escapes RV Resorts Chesnut Bay is the perfect destination for camping with dogs. Just like our adorable mascot, Biscuit the Corgi, your pooch is bound to have a tail-wagging good time! Here are some tips to ensure a safe, healthy, and fun-filled summer camping experience.
10 Tips for Camping with Dogs
Tip 1: Keep Cool and Hydrated
Summer heat can be ruff on dogs. Ensure your pup stays cool by providing plenty of shade and fresh water. Consider bringing a cooling mat or bandana for your dog to help beat the heat. Remember, a hydrated hound is a happy hound!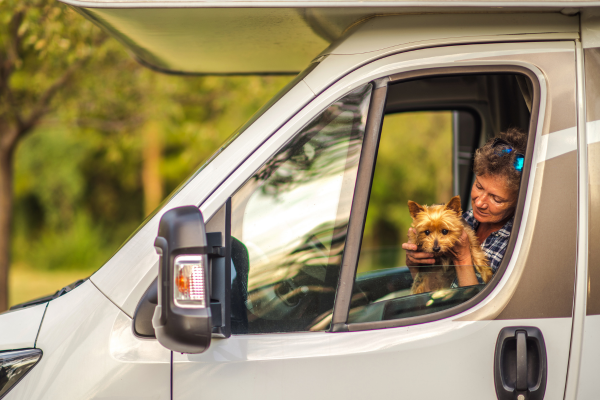 Tip 2: Leash Laws
For the safety and comfort of all our guests, keep your dog on a leash while exploring the resort. It's a pawsome way to prevent them from chasing wildlife or wandering into other campers' sites.
Tip 3: Scoop the Poop
Nobody likes stepping in something unpleasant. Always pick up after your dog – it's a key part of camping etiquette. Plus, it keeps our resort looking pawfect!
Tip 4: Pack Essentials
When packing for your dog, include food, water, bowls, leash, toys, and a comfy bed. Don't forget the treats – maybe even some chill treats like dog-friendly ice cream to beat the summer heat!
Tip 5: Vaccination Records
Keep a copy of your dog's vaccination records on hand. It's always better to be safe than sorry, especially when you're away from home.
Tip 6: Explore the Great Outdoors
With miles of hiking trails, our resort is a dog's dream come true. Remember to keep them on a leash while camping with dogs and bring plenty of water for both of you.
Tip 7: Identification
Ensure your dog has proper identification tags with your contact information and site number. If your dog decides to go on an unexpected adventure, this will help ensure a safe return.
Tip 8: Pet-Approved Accommodations
At Great Escapes RV Resorts Chesnut Bay, we welcome dogs in our RV sites and pet-approved cottages and lake home rentals. Just like Biscuit the Corgi, your dog will feel right at home!
Tip 9: Brush and Towel Down
After a day of outdoor fun, remember to brush or towel down your dog before entering the RV or cabin. This will help keep your living space clean and free from dirt and debris.
Tip 10: Quiet Time
Just like people, dogs need downtime too. After a day full of activities, ensure your dog has a quiet, comfortable place to rest and recharge for the next day's adventures.
Camping with dogs is a joy like no other. By following these tips, you can ensure a safe, enjoyable, and memorable camping experience at Great Escapes RV Resorts Chesnut Bay. So pack your bags (and the dog treats), and get ready for a summer filled with tail-wagging adventures!
Here's To Pawsome Summer Adventures!