Trick-or-Treating Tips for a Spellbinding Adventure
Boo! Are you ready for a ghoulishly delightful time at Great Escapes RV Resorts Chesnut Bay? As October rolls in, so does our Halloween Spooktacular Weekends, and one of the most anticipated activities is trick-or-treating around the park. To ensure you have a spooktacular experience, here are some trick-or-treating tips tailored just for our resort.
Trick-or-Treating Tips for Your Stay at Great Escapes RV Resorts Chesnut Bay
1. Stay Informed with campersAPP and Resort Schedule
Our Halloween Spooktacular Weekends are packed with activities. To stay updated on the trick-or-treating hours and other events, download campersAPP from Google Play or the App Store. Additionally, the resort will offer a schedule of events to ensure guests are well-informed.
2. Safety First
Even in the safe confines of our resort, always accompany young children while trick-or-treating. Carry a flashlight or wear glow sticks to be visible as the evening sets in.
3. Costume Features
Choose costumes that are the right size to prevent trips and falls. Ensure masks don't obstruct vision, and consider using face paint as a safer alternative.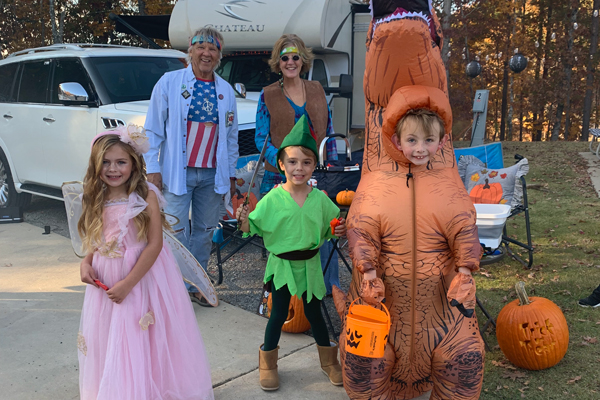 4. Allergy-Friendly Treats
If you're handing out treats, consider having a separate bowl with treats free from common allergens. Options include:
Fruit Snacks: Many brands offer fruit snacks free from the top eight allergens (milk, eggs, peanuts, tree nuts, fish, shellfish, soy, and wheat).
Rice Krispie Treats: Some brands offer gluten-free and nut-free versions.
Tootsie Rolls & Tootsie Pops: These are nut-free and gluten-free.
Skittles: These are gelatin-free and do not contain any of the top eight allergens.
5. Bring a Sturdy Treat Container
With so many activities and generous campers, your little ones might end up with quite the haul. Bring a durable container to carry all the goodies.
6. Dress for the Weather
One of the essential trick-or-treating tips for October evenings at Great Escapes RV Resorts Chesnut Bay is to dress warmly. The nights can be chilly during our Halloween Spooktacular Weekends. Ensure your costumes are warm enough or that there's room to wear layers underneath so you stay cozy while collecting those camping treats!
7. Participate in the Costume Contests
Don't forget we have costume contests for children, teens, adults, and even pets! It's a great way to show off your Halloween spirit and creativity.
8. Say Thank You
Teach children to say "thank you" after receiving a treat. It's a small gesture that goes a long way in spreading kindness and gratitude.
Trick-or-treating at Great Escapes RV Resorts Chesnut Bay is a unique experience, blending the traditional fun of Halloween with the beauty and community of our resort. By following these trick-or-treating tips, you're sure to have a memorable and enchanting time.
So, pack your costumes, gather your treat bags, and get ready for a magical adventure this October! Remember also to check out our other fang-tastic activities like the Magic Pumpkin Patch, Haunted Trail, Campsite Decorating Contest, and much more!
Fill Your Treat Bag With Unforgettable Moments