Uncover Unique Camping Experiences at Great Escapes
Are you ready to embark on a camping adventure like no other? Look no further than Great Escapes RV Resorts Chesnut Bay, nestled in the heart of Northeast Alabama. Our premier family vacation destination offers a wide range of unique camping experiences that will take your outdoor getaway to the next level. From RV campsites to cozy vacation rentals and hiking trails to Pirates Bay Waterpark, there's something to suit every camper's taste.
Classic and Unique Camping Experiences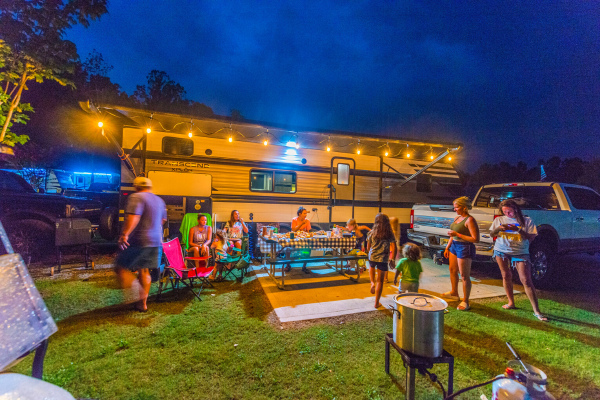 Traditional Camping Ventures
For camping enthusiasts who appreciate the nostalgia of setting up an RV site, Great Escapes RV Resorts Chesnut Bay provides spacious and well-equipped RV campsites. Immerse yourself in nature while still enjoying modern conveniences. 
Wake up to the sounds of birds chirping and spend your days fishing, swimming at the beach, boating on Weiss Lake, or exploring nearby hiking trails. The resort's serene atmosphere and picturesque surroundings make it a haven for nature lovers.
Unconventional Camping Ventures
If you're seeking unique camping experiences, Great Escapes RV Resorts Chesnut Bay has got you covered. Indulge in the comfort of cozy cottages and lakefront rental homes that are fully furnished and ready for your arrival. These accommodations offer a blend of luxury and outdoor adventure, with breathtaking views right at your doorstep. 
Take a dip in the resort pools, challenge your friends to games at the arcade, or treat yourself to delectable delights at the on-site cafe and ice cream shop. And don't forget to make a splash at Pirates Bay Waterpark, where exhilarating water slides and thrilling adventures await. These unconventional camping options provide a perfect blend of relaxation and excitement for a truly memorable getaway.
Camp In New and Unconventional Ways
Great Escapes RV Resorts Chesnut Bay is your gateway to a world of unique camping experiences. Whether you're drawn to the traditional charm of RV campsites and outdoor adventures or the allure of cozy cottages, resort pools, and waterpark thrills, our exceptional destination has it all. Start planning your extraordinary camping getaway and prepare for an adventure that will exceed all expectations. 
Dreaming of a One-of-a-Kind Camping Experience? Make It A Reality!